Haven't heard much about Fred Phelps for a while, but something brought him to mind tonight; don't know what, for sure.
From Wikipedia (Fred Phelps)
:
He is known for the slogans that he and his ministry use against people he deems sinful, including "God Hates
Fags
", "Thank God for Dead Soldiers", "America Is Doomed" and "Priests
Rape
Boys". He claims that God will punish homosexuals as well as various public figures such as
Bill O'Reilly
,
Coretta Scott King
,
Ronald Reagan
,
Howard Dean
, and anyone else whom his church considers "fag-enablers". He and his group picket military funerals under the apparent conviction that the people being buried have any role in whatever policy he's protesting besides having been killed following orders under it.
He's the very most dangerous kind of demagogue, deluded and with some measure of charisma, apparently. The danger comes not from him, but from those who fear him so much they would be willing to sacrifice their own freedom of speech to stop him from desecrating a funeral.
Fred Phelps is a would-be totalitarian who by his actions creates support for the very totalitarians he says he despises. That's because it is very likely that a very liberal gay Jewish woman on the east coast will pressure her senator to do something that will silence Fred Phelps. Probably already has. And her influence is a hundredfold that of a Phelps supporter.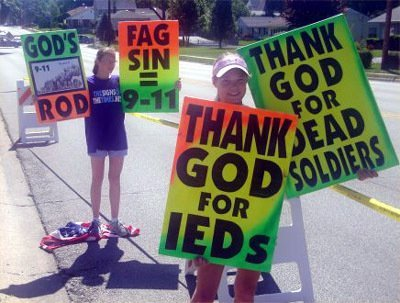 I have nothing but contempt for Phelps' politics and tactics, but I defend his right to attempt to bring his disrespect to a funeral. The right to stand on a street corner or in a public cemetery and hold a sign with an execrable message is more necessary to liberty than is the right to hold a funeral without jerks across the street saying the departed is doomed for being killed while under the orders of somebody Phelps doesn't like. Phelps will fade away. Other Phelpses will arise. Only rarely will a right, once surrendered, re-appear.